Content:
---

Online application walkthrough:

1. Download Application Package:
Link 1: bit.ly/vmeb2022canada
Link 2: http://www.viennastudy.com/web/wp-content/uploads/2021/12/vmeb2022c.pdf
a) You can fill the form directly using a smartphone or a tablet with the free app "Adobe Fill & Sign – Form Filler"
Apple App Store – "Adobe Fill & Sign – Form Filler"
Google Play – "Adobe Fill & Sign"
b) You can also print out the form, fill out a hard copy, then scan it with a free app (e.g. "Adobe Scan")
Apple App Store – "Adobe Scan"
Google Play – "Adobe Scan"
Application Fee: CAD 80
Please use Interac e-Transfers to pay to email address:
canada@vmeb.org
1. Log into your online or mobile banking app.
2. Look for Send Interac e-Transfer in the Payments & Transfers section.
3. Add new Interac e-Transfer Recipient payee or send to a new recipient.
4. Add the email: canada@vmeb.org
5. Input CAD 80 and click "send".

4. Fill in the Reference Number to the application form.
Log into your email account. Look for the confirmation email stating that your e-Transfer has been successfully deposited. Look for  "Reference Number" in the "Details of the Transfer" section. It is an 8-digit alphanumeric number which begins with the letters "CA".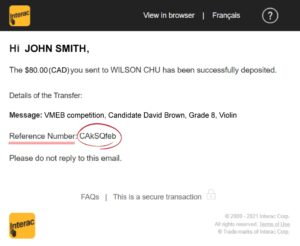 ---

History of the VMEB Online competitions:
Vienna Music Examination Board (Official name in German: 'Wiener MusikPrüfungskommission:) is an international accreditation body and authority on professional graded practical music examination and early childhood music education programs. Board Committee consists of members of institutions with history of over 150 years, conservatories, professional bodies, and world reputable music associations such as world-leading composer associations.
The Board has established an International Exam Administration Office in Hong Kong (Room 403, 4/F, Valley Centre, 80-82 Morrison Hill Road, Hong Kong), responsible for administrating the Board's daily administration work and operations outside Austria, and to coordinate with the Board's other local Exam Administration Offices in overseas.
The VMEB Video Competitions has been held yearly since 2010. Starting in 2019, due to the rising number of candidates, it was amended to be held every six months.
For more information about the Vienna Music Examination Board, please visit http://www.vmeb.org
---

VMEB Competition (Canada) 2020 Information
Eligibility: The competitions are open to all people who reside in Canada.
Grades: The competitions will be grouped by instruments and difficulties. Piano, Violin, Viola, Cello, Double Bass, Harp, Classical Guitar, Flute and Clarinet; Grade 1 to 8 (Stufe 1-8) and Advanced Level (Oberstufe).
Repertoire: Participant should choose 1 piece of the corresponding grade from the Vienna Music Examination Board VMEB syllabus or any  other music examination authorities' syllabi (e.g. RCM Level 1-8); Advanced Level (Oberstufe) candidates may choose 1 piece from any VMEB performance diploma syllabus or any equivalent levels syllabi, e.g. RCM Level 9-10, ARCT & LRCM.
Application: Submit the filled application form and ID copy to the VMEB International Exam Administration Office by email or FB Messenger. A confirmation email with the application number will be sent to you to confirm your application within 3 working days.
Subsequently, you may reply to this confirmation email for video submission.
Competition Video Submission: Participants are required to upload an unedited performance video of their own to YouTube as an unlisted video. Reply to the application confirmation email with the video link for submission.
Judging Panel: Vienna Music Examination Board VMEB Certified Examiners
Prizes and Awards: The competition video will be graded with a scale of 1 to 5, with one being the best, variate with suffix + and – .  Participants receiving 1+, 1, and 1- will be awarded Champion, 1st Runner Up, and 2nd Runner Up medal respectively, and will be
awarded a certificate and cash coupon of CAD 30.00 for enrolling in a VMEB Music Examination (valid through 31/12/2022). Participants receiving 2 will be awarded merit certificates. An electronic certificate of participation will be issued to participants receiving 3. A certificate of appreciation will be awarded to music-teachers / music centres who nominated 5 or more applicants.
Application Deadline: On or before 31 January 2022
Video Submission: On or before 5 February 2022
Announcement of Results: 28 February 2022
Application Fee: CAD 80.00 (For General Public); CAD 65.00 (For Students of the VMEB Certified Music Learning Centres)
For inquiries, please e-mail admin@vmeb.org or by Facebook Messenger fb.me/vmeb.org
---

VMEB Facebook fb.me/vmeb.org
---

VMEB Competitions Instagram vmeb.competitions@instagram
View this post on Instagram