Mag. Art
Wilson CHU

, Violin Virtuoso and Pedagogue

Mag. art Wilson CHU was born in Hong Kong. He started playing the violin at the age of eight. Few years later, he made his debut as a soloist with orchestra. It was broadcasted by Radio Television Hong Kong in Christmas 1993. Within the same year later, he performed for the 28th Governor of Hong Kong, Chris Patten.

In spring 1998, Wilson decided to devote himself to music and went to Austria to further his study. He spent a year drifting from city to city.  He visited masterclasses and sit in violin lessons in different academies in search of a suitable violin professor. In the meanwhile, he met Prof. Ernst Kovacic in Vienna, with whom he studied for 2 years focusing on Mozart's works and style.
Living in Salzburg
In year 2000, Wilson moved to Salzburg, the birth place of Mozart, where he received training in the prominent music institute, the Universität Mozarteum Salzburg. Professor Jürgen Geise discovered his flawless violin technique during the audition, and exceptionally offered him an extra place in his class even at the time it was already full.
During their first lesson, Wilson's impeccable ensembleship impressed the professor, and was immediately invited to join Cis – Collegium Mozarteum Salzburg, which is one of the most renowned chamber music ensembles in Austria. Wilson was subsequently invited to play in Bad Reichenhaller Philharmonie in Germany as a tutti-violinist.
Furthermore, he actively appeared in leading positions in school projects, working with Denis Russel Davis as Concertmaster.  He was also the leader of the Viola section in several Mozart Festival projects, where Philip Glass conducted his Opera "Orpheus" in Salzburg, 2001.
His extensive orchestral experiences drew attention to the manager of a Swiss orchestra – "I SINFONIETTI 01". He had been the associate concertmaster of the orchestra for 2 years, until the Philharmonie Salzburg engaged him as Concertmaster in 2003. In results, Wilson successfully led the orchestra in many major concert halls in Europe, including the Salzburg Festspielhaus, Wien Konzerthaus (Vienna Concert House) and Brucknerhaus Linz.
Graduating with honours from Mozarteum Universität
After accomplishing the bachelor program in Mozarteum Universität, Wilson remained in the university to pursue additional elective courses in music education, acoustic, languages, literature, and studied chamber music with Prof. Lukas Hagen and Prof. Benjamin Schimdt.
During the same year, he was also conducting the Philharmonie Salzburg for local concerts and Viennese ball. His skills as an orchestral musician have taken him around Europe, and his management skills brought music from Europe across the world. In 2004, Wilson was hired as a project manager for Wiener Schloss Kammerorchester. He organised a 12 days concert tour, which concretising across China's major cities.
Despite the busy schedule, Wilson continued to attend the Master examination in Mozarteum, where he successfully convinced the senates, including Prof. Igor Ozim, Prof. Lukas Hagen, passed with honour under the Master of Arts faculty.
Wilson decided to devote himself to chamber music after graduated with honours from Mozarteum Universität with a master degree. Since then,Wilson continue to make highly acclaimed performances as soloist of both violin and viola with the ensemble "Amadeus Consort Salzburg". Then, he was subsequently invited by the Taiwan Ministry of Culture, led the "Amadeus Consort Salzburg" representing Austria, performed in the "International Cultural Exchange Fair" in Taipei, 2006.
Living in Hong Kong
Wilson returned to Hong Kong in 2006 summer after spending over a decade in Europe, decided to devote himself in music education. He founded the "Sound of Music Orchestra Academy" together with Stephen Chong (clarinetist).  In addition, they lead a group of talented young Hong Kong musicians to Salzburg, Austria in August, 2007, which created a treasurable opportunity for Hong Kong young musicians to go on stage with professional European musicians.  Together, they performed in Schloss Mirabell, which helped young musicians to experience the European culture essence.
In recent years, Wilson has been an active music educator, performer and conductor. He shows support to many cultural and charitable organisations. He actively performs with local chamber orchestra in charity concerts, tours at local kindergartens and primary schools, promoting classical music to Hong Kong audience.  Also, he helps fund raising for charity events.
In 2010, Wilson was invited to serve as the Chief Consultant for the Wiener Musik-Prüfungskommission (Vienna Music Examination Board) as an annuitant. In August 2010, Wilson also became the artistic director of the Donau Musikinstitut, Hong Kong.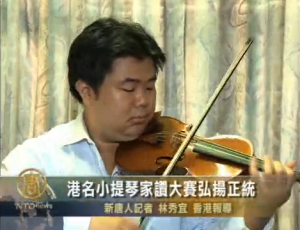 NTDTV New York interview
Wilson Chu's Résumé
Universität Mozarteum Salzburg
Master of Arts (First-Class Honours)
Wien (Vienna) Musikhochschule
Diploma (Violin Performance)
Amadeus Consort Salzburg
Solo Violinist and Violist
Philharmonie Salzburg
To learn more about violin lessons and other music lessons
Please click here to inquire about:
Violin lessons
Piano lessons
Other music lessons
for children or adults, in Hong Kong or Kowloon district.